eerT-samtsirhC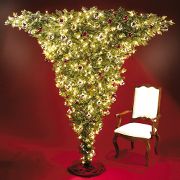 The latest trend straight from the "land of the unlimited possibilities":
Upside-down Christmas trees
. Indeed, they are practical: More space for gifts underneath, you can put it between two coaches and the decoration is better visible as it is not hanging into the tree. However, there's one big disadvantage: you cannot put real candles on - but hey, who wants real candles anyway?